Support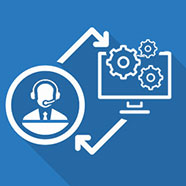 High-Touch Support
Of all the results we deliver, none is more important than excellent service and common courtesy.
VSi's unmatched customer service continues with convenient call-in centers that are staffed by trained representatives who know our products and who are VSi employees. No sub-contractors. No Temporary workers.
Of course, we can't control what problems will come up or when for the hotel staff, but we do control our monitoring equipment and our support personnel. The result: every service situation can be resolved promptly, efficiently and professionally.
It's a proven standard for performance that minimizes hassle and maximizes satisfaction – that provides answers, not excuses.
Isn't that the kid of accountability and peace of mind you are looking for?